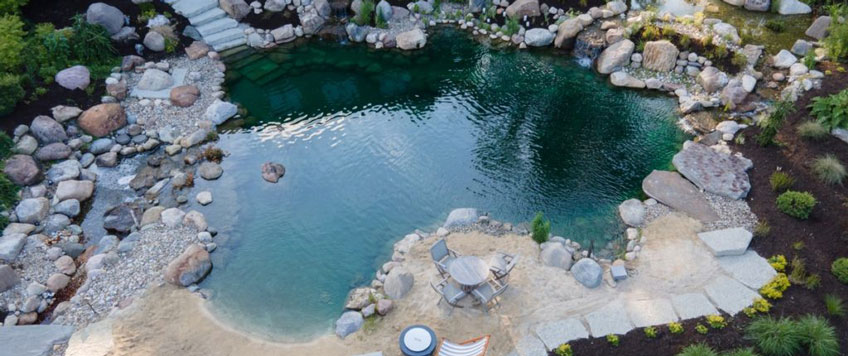 Have Fun in Your Own Backyard Paradise
If you've always wanted a pool, a naturally landscaped backyard, or a relaxing koi pond, a Recreation Pond can combine all three!
Recreation Ponds look natural, with beautiful plantings surrounding the pond and immersed in the water. You can even add a waterfall, stream, or fish to your Recreation Pond.
Typically, we design a Recreation Pond with a shallower area for plantings and a deeper section for swimming. So whether you want to take the children for a swim, go snorkeling, or explore the deep, you can say yes to all options.
If you like beaches, we can create that too! How about a dock where you can jump into the water or a gently sloping gravel beach leading into the swimming area?
Naturally beautiful, these private paradises provide an environment that people love and that is functional for all ages.
Create Memorable Experiences
From picnics to swimming, ponds have been a source of summertime memories through all of time. And there's nothing like sharing those memories with your children, grandchildren, and friends.
A Recreation Pond from Premiere Aquascapes is designed for years of enjoyment and brings your loved ones together to create new memories.
Low-maintenance, chemical-free, and useable year-round, a Recreation Pond offers endless options for outdoor entertaining.
Enjoy cookouts, tea parties, Sunday lunches, and countless get-togethers by a pond designed for recreational purposes.
Increase Your Property's Curb Appeal
If you ever sell your home, a Recreation Pond guarantees to attract buyers.
From the street, it might just look like a beautiful water feature, but when they find out it's also a Recreation Pond, they will be ready to sign the paperwork!
Other features that buyers will appreciate include the low maintenance, eco-friendly way a Recreation Pond is designed to operate, and providing a source of water and protection for birds and wildlife. To increase the value of your Recreation Pond even more, consider adding a deck and pool house nearby.
Say Goodbye to High Maintenance Upkeep & Harsh Chemicals
Today, many people are concerned about the effects of chemicals on their health and the environment.
With a Recreation Pond, you can say goodbye to high-maintenance upkeep and toxic chemicals.
Including a powerful biological filter, water jets, and skimmer to keep debris collected, a Recreation Pond operates similar to a large aquarium.
Adding fish and plants balances your Recreation Pond, meaning nature will take over and keep the water clear, fresh, and safe for kids, pets, and wildlife.
Maintenance is simple as well. But if you prefer, you can schedule regular checkups and maintenance from Premiere Aquascapes.
We provide the expertise you need to install and maintain your beautiful backyard Recreation Pond—for years of enjoyment.
Invest in a Recreation Pond
If you're looking for an alternative to an inground pool, Recreation Ponds are customizable and can be developed in many ways.
Built by Premier Aquascapes, a Recreation Pond is a multi-faceted water feature that can turn your underused backyard into an oasis you won't want to leave.
With a swimming pool, you will need to consider decking, concrete, chemicals, and more—unlike a Recreation Pond.
Additionally, while a pool is limited to a few months a year, you can enjoy a Recreation Pond year round.
When comparing the cost of a Recreation Pond with a pool, Recreational Ponds are in a similar price range, but outdo pools in beauty and longevity.
Most Recreation Ponds start at approximately $75,000. However, costs vary due to size and custom options. A good rule of thumb is to estimate $165 per square foot.
Keep in mind that adding lights, waterfalls, streams, and fish will affect the final cost of your Recreational Pond. Still turning your backyard into a lifelong dream waterscape is well worth the investment.
Call us at (574) 202-1636 and start investing in your own recreational design today!
Contact Premiere Aquascapes to Learn More!