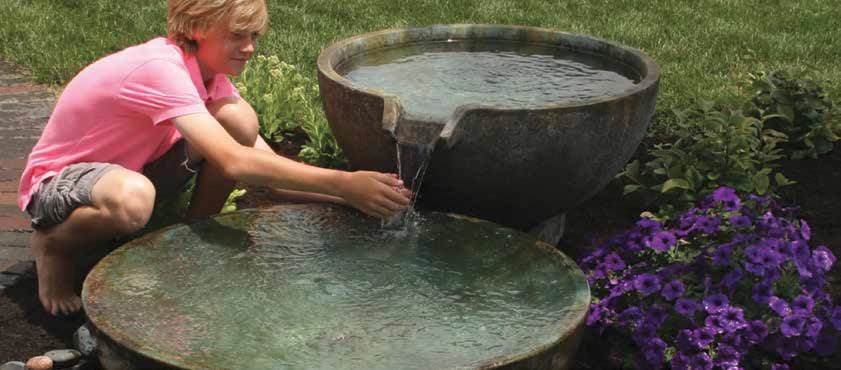 Our Fountainscape. Your Dream Getaway.
Picture your favorite hangout. Maybe you see a dream vacation spot, your old homeplace, or a favorite hiking destination.
Chances are, you pictured yourself near a beautiful body of water. Naturally, being near water soothes our souls, calms our minds, and relaxes our bodies.
No matter what you envisioned, our Patio Fountains are a great way to bring the healing benefits of water into your life. And nothing is more rewarding than spending a summer evening drifting off to sleep in your favorite chair next to the relaxing sounds of bubbling water.
Adding a Patio Fountain to the front entrance of your home can provide a stunning highlight and draw visitors into your showcase garden. After all, who can resist getting closer to a fountain?
A fountainscape designed with lights, multicolored stones, and a selection of beautiful potted flowers nearby is a creative way to enhance a small backyard.
Plus, if you want a simplistic design and minimal upkeep, a stand-alone fountain is self-contained.
This style of fountain requires no pond and very little space. Like tabletop fountains, you choose your favorite style, set it in place, and plug it in. Larger models of a stand-alone fountain may require more assembly, but typically, setup is quick and easy.
Express your creativity in choosing the perfect fountain and setting and make the healing properties of water an essential part of your home and lifestyle.