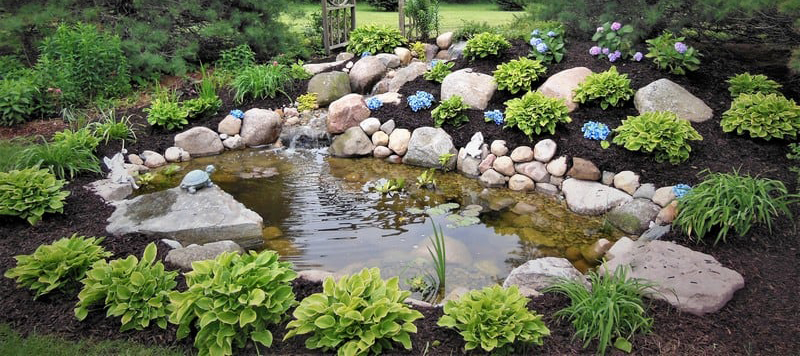 Custom-Built. Eco-Friendly.
If you want to attract wildlife and enhance your yard, an Ecosystem Pond is the perfect water feature for you.
Backyard Ecosystem Ponds are as unique as their owners, and our customers love how personalization is never a problem.
An Ecosystem Pond with wetland plants and fish provides the relaxing elements of water for you and the surrounding wildlife.
An earth-conscious choice, installing an Ecosystem Pond naturally restores nature's habitat for animals that have been pushed aside by suburbia.
Feeding the fish and watching the plants grow and change with the seasons are additional attractions that an Ecosystem Pond offers.
Adding a splash area to a stream, waterfall, or pond is also an option to include children in the fun of a backyard water feature.
Or, maybe a simple pond with a diving board or slide is all it takes to turn your backyard into everyone's favorite spot for those hot summer days.
Whether you are retired, busy raising a family, or just starting out on your own, a personalized pond in your backyard is waiting for you.
Just call Premiere Aquascapes to get started!
And as for upkeep and maintenance, Premier Aquascapes can handle that too.