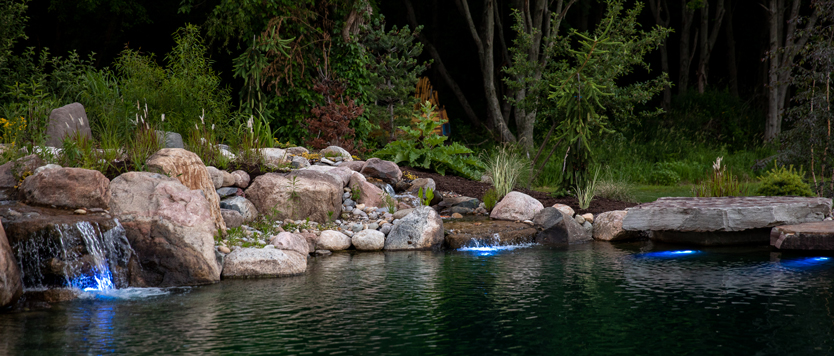 Enjoy Your Landscape at Night
Backyard ponds are not just for daytime enjoyment.
With a touch of well-placed LED lighting, you can enjoy your landscaping, pond, or waterfall at night too.
Additionally, enhance a simple container fountain on an apartment balcony by using a fountain light.
This design lets water flow through the light fixture and creates bubbling beauty even after dark.
Compared to halogen lights, outdoor LED lights are:
Energy efficient

Waterproof

Longer lasting, up to 10x the bulb life of halogen bulbs
Our LED lights and wiring are easy to connect and install if you enjoy DIY jobs.
Plus, the push of a button easily programs them to turn on at dusk and shut off at daylight. 
However, if the task seems daunting or too time-consuming, Premiere Aquascapes will do the work for you.
We offer LED lighting in various wattage options and bulb styles, and each choice transforms your daytime water feature into a nighttime feature as well.
Gatherings and events don't have to end just because the sun has set.
Choose our LED lights and create a relaxing, beautiful spot where you can enjoy your water feature every evening.
Highlight Your Waterscape
At Premier Aquascapes, we have several possibilities for light fixtures, which can be strategically hidden in your landscaping.
Set a light fixture on the floor of your pond to highlight fish and underwater plants, or even under waterfalls to bring your water feature to life at night.
With LED pond lighting, you can draw attention to key points and bring a calming touch to your home.
Plus, add value to your landscape by investing a water feature that you can enjoy day and night.
At Premier Aquascapes, we supply customizable and personal LED lighting for your water feature.
Contact one of our experts and find the perfect lighting for your waterscape today!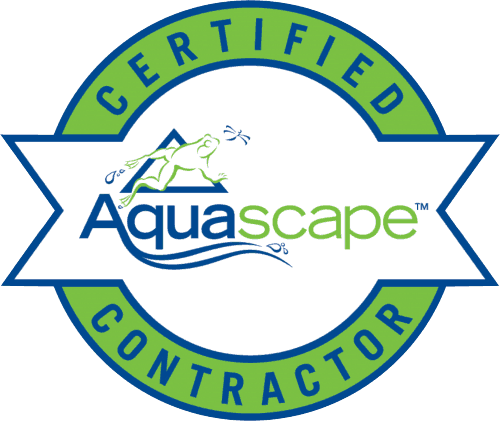 Contact Us Today
See what we can do to transform your backyard into a your own personal get-a-way!
Don't settle for less than a certified Aquascape contractor to build your pondless water feature.