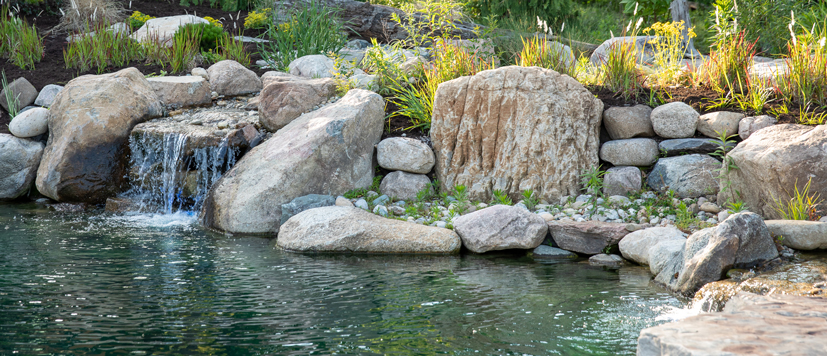 Three Built-In Benefits of a Natural Pond
If your land is marshy or constantly wet, then a natural pond is the perfect solution for your property. From low-maintenance upkeep to year-round use, a natural pond will bring entertainment and aesthetics to your home.
Aside from flexibility in all seasons, natural ponds are customizable for each family.
With every step of the way, Premier Aquascapes makes it easy to turn your swampy backyard into a natural oasis.
Supplying built-in benefits, here are the top three reasons why you should invest in a natural pond.
The first advantage of choosing a natural pond is customization. We define our natural ponds as "natural" because, once installed, they require no external filtration.
However, despite the name, our natural ponds are man-made, meaning the size and depth are adjustable.
Typically, customers decide on a ¼ to a ½-acre pond. But the dimensions can vary based on each customer's preference.
Additionally, like an in-ground pool, we build our natural ponds with a shallow and a deep side. This makes it more convenient for swimming—especially with children.
For extra personalization, adding a floating dock, a waterfall, or fish can transform your pond into your favorite place.
Made for customization and suited for all ages, natural ponds are a wonderful focal point for entertaining guests.
2. Entertainment—Year-Round
Imagine being able to enjoy your property—even during the winter. With a natural pond, you can appreciate the outdoors all year long.
In the wintertime, a natural pond converts into a hockey or skating rink. And, if you've added fish, then ice fishing is always a possibility.
Plus, during those warmer months, you have the option of relaxing on the beach, paddle boarding, kayaking, or water volleyball.
As entertainment centers, natural ponds make an ideal location for family reunions, camping, picnics, and more.
Unlike pools, natural ponds do not require chlorine or filtration. This makes pond upkeep stress-free.
To keep your natural pond balanced, we suggest a bi-weekly bacteria program. In other words, add supplemental bacteria to your pond every two weeks to reduce nutrient loads.
A healthy pond makes for cleaner water and happy wildlife.
Another option is installing an aeration system, which uses a diffuser to maintain the level of oxygen in the pond. The lines of the diffuser keep water moving and oxygenated.
Like aeration, floating fountains bring movement to your pond water. A popular alternative to our other two cleaning methods, floating fountains add an aesthetically pleasing sight and soothing sounds to your pond.
Whichever method you choose, helping your pond flourish is mostly hands-free.
Since 2011, we've been helping customers create their dream backyard.
Don't wait to renovate.
Call Premier Aquascapes today, and let us build your gorgeous oasis.