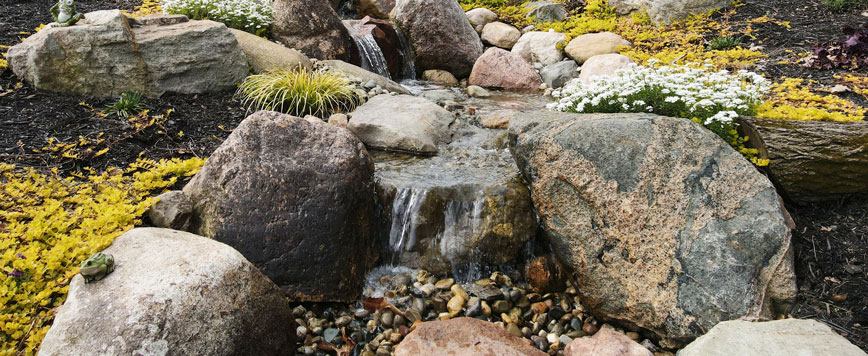 Create The Perfect Place to Relax
With a Pondless Waterfall from Premier Aquascapes, you can turn your outdoor living space into a paradise.
Nestled against your deck or swimming pool, a Pondless Waterfall creates an atmosphere where you can relax with friends and family or spend quiet time concentrating when your office work follows you home.
As a contemporary design, Pondless Waterfalls are specifically made to give you the perfect serenity and stunning lifestyle you desire for your home setting.
If your goal is to enhance the beauty and peace of your landscape with a natural flow of clean water, a Pondless Waterfall is exactly what you need.
Save Time. Save Money. Enjoy the Benefits.
There are several benefits to having a Pondless Waterfall.
For one, Pondless Waterfalls are usually much clearer, cleaner, and certainly less work than most other ponds or waterfalls.
In a Pondless Waterfall, the water disappears into a basin at the bottom of the falls and recirculates back to the top of the falls by a pump. This gives the illusion of the water cascading down the falls and disappearing back into the rocks below.
The constantly recirculating water is not stagnant, eliminating the opportunity for pesky mosquitoes to lay their eggs and cause a problem in your yard.
Additionally, water feature maintenance without a pond is relatively simple. A Pondless Waterfall uses very little water and will generally cost less than building a pond or pool.
A Pondless Waterfall can be installed in an area that is too small for an Ecosystem or Recreation.
The maintenance issues of accumulating leaves and other organic material, which decay and change the balance of pond water, are virtually eliminated with a Pondless Waterfall.
With stress-free upkeep, adding a Pondless Waterfall to your property will help you enjoy your yard or garden more than you ever expected. Not only will the soothing water provide a peaceful oasis for your family, but it will also attract birds and butterflies.
To design the landscape of your dreams, contact Premier Aquascapes today at 574-202-1636, and let us start planning your new Pondless Waterfall.