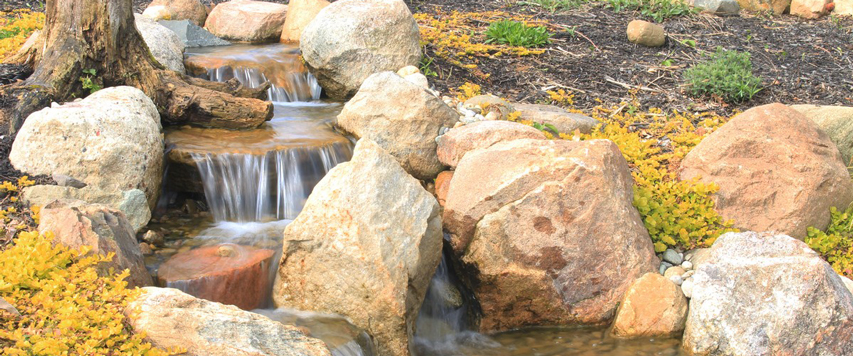 Make Your Backyard Beautiful
If your backyard is bland and boring, the yard work necessary to keep it looking neat, can be total drudgery.
But what if you could hardly wait until your day job was over so you could get home and relax in your backyard?
With a waterfall or stream as a central feature, Premier Aquascapes can transform your mediocre landscape into a stunning environment.
From filling in an out-of-the way corner to furnishing a space you no longer want to spend time mowing, a Backyard Stream or Waterfall can be easily customized to spruce up your backyard.
Choose from Endless Possibilities
If you've always wanted a beautiful water feature but don't have the knowledge or time to manage an entire pond ecosystem, Premiere Aquascapes can help.
With our years of experience, we will provide you with a stream or waterfall that will undoubtedly change your lifestyle.
Whether meandering through the middle of your property, near your deck, swimming pool, or garden, a Backyard Stream or Waterfall provides the calming sound of running water.
As a certified Aquascapes contractor, with Premier Aquascapes, the possibilities are practically endless.
Your Backyard Stream or Waterfall can ripple over large, rugged stones or be bordered with a combination of trees and flowers.
Adding a pond to your stream or waterfall can slow down the water, making it an eye-catcher in the design.
If shutting out traffic noise or providing a boundary between neighbors is a concern, including evergreen trees or foliage to the sides of your Backyard Stream or Waterfall is an attractive and practical option.
Enjoy Your Stunning Waterscape
You can include almost anything imaginable in your water feature.
What about designing a small pebbled beach area for children to play in during the summer? Or, if you've always liked koi or goldfish, a pond is an excellent idea.
And, if darkness falls before you start to unwind for the day, adding LED lighting to your waterfall or pond allows for nighttime enjoyment too.
Premiere Aquascapes has the expertise to help you design and install the waterfall, pond, or stream you want.
Working with the existing features of your property, we create a little bit of paradise right in your own backyard.
You work hard, so let Premiere Aquascapes help you come home and relax.