How to Make Sure You're Pond Is Ready for Spring
Believe it or not, spring is just around the corner and the excitement of another amazing pond season is almost here. Even though it's still cold, it's time to start thinking about what needs to be done before warm weather is here to stay.
The best way to have a great pond season is to have a proper clean-out and systems check in the spring. If you are a do-it-yourself type, you can get your own pond going, but if you prefer to leave this to the pros, give us a call.
Just don't wait, our pond clean-out schedule fills up fast, and it is best to have cleaning done before mid-May.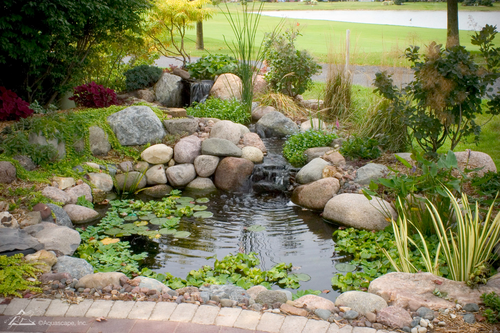 What to Expect When Hiring a Pro
We understand that cost can be a consideration when deciding who will clean out your pond. Although each pond is different depending on the size, here is a general guide to what most pros charge:
$550-650 – small, well maintained pond
$850-1,000 – small pond that hasn't been cleaned regularly
$900-2,000 – medium to large pond, depends on debris level
What services should a professional perform when cleaning your pond and setting it up for summer? Perhaps the best guide is to tell you what you can expect when you have Premier Aquascapes do your work for you!
Pump out water & save as much as possible
Net fish and tadpoles and keep them aerated
Remove remaining water and debris
Power-wash pond, streams and waterfalls
Back-flush system and remove dirty water
Adjust displaced rocks, gravel, and filters
Clean filters and pumps and reconnect everything
Check lighting, fountains, and other accessories
Refill pond and add detoxifier
Reacclimatize fish to clean pond and check pond operation
Can I Do It Myself?
If this looks like a lot of work, it is, but it is our business, and we know what we're doing. We are dedicated to providing you with a great summer of enjoying your pond and water features. If you decide to do the work yourself, there are a few things you should know that will help to ensure a successful outcome.
Make sure to gather everything you will need before you start. Although fish should be OK in smaller containers while you work on the pond, the less time spent out of the pond, the better. You will want to have pond De-Tox and new filter pads, as well as clean containers for the fish. They should be kept in the shade and have aeration.

Preparing for the Job
You will need a way to float your fish in temporary containers in the pond after the clean-out. Fish are very sensitive to water temperature changes, and can go into shock if they aren't acclimated slowly to the new water temperatures. Don't try to feed your fish during this time, they are stressed and probably will not eat.
Time to Update?
With the pond empty of water and debris, you can easily make changes to lights, cameras, or other accessories. Remember to divide lily roots and other aquatic plants that are getting too big. Plant fertilizer is also recommended, especially for the lilies, as they are voracious feeders and bloom best when they have plenty of food. If you have been wanting to try a new arrangement for your plants or other items, there's no better time than when the pond is empty.
Signs of Spring
As the water temperature gets up to 50 degrees in the spring, the bacteria will start to come out of the dormant stage and you can start feeding the fish again. At this point it's not uncommon for string algae to appear. This is nature's way of filtering the water until the other aquatic plants and bacteria come out of dormancy and balance everything out.
You may also notice small black dots appearing on the rocks. These are tadpoles, and hundreds of them will start to appear in spring, along with aquatic insects and larvae. Typically these become snacks for your fish as their metabolism fires up and they get hungry.
Premier Aquascapes Can Help
Does this all sound overwhelming? A lot of this happens naturally, so just enjoy watching nature wake up from her long winter's nap. And don't forget, all of us at Premier Aquascapes are ready to help whenever you have a question or problem with your pond. We carry filter pads, chemicals, fertilizer, plants, fish food, all the supplies you will need to keep a healthy pond. Of course we also sell and maintain pumps, filters, heaters, and aerators, as well as lighting, fountains, underwater cameras, and many other items to help you get the most enjoyment from your backyard pond this year. Stop by and see us, or check our website.