Caring for Your Pond in the Winter
Now that winter is here and the temperatures are below freezing, you want to make sure all your pets and animals have a warm place to be. If you have a backyard pond with fish in it, you may have been asking yourself what's going to happen to your pond? Should you keep it running or shut it down and try to find another place for your fish to spend the winter? Will the fish survive outside under the ice without food? If you opt to keep it running, what do you need to watch for?
Open for Business
There are rewards and benefits to keeping your pond running through the winter months. If you have a waterfall feature, amazing ice formations can build up around it when the temperature drops below freezing, Our feathered friends need access to water during the winter, and the running water will attract a lot of birds, and maybe other thirsty critters!
Keep an Eye On It
When deciding whether to keep your pond open all winter or shut it down, the main consideration can be, what all do I have to keep an eye on? Some maintenance issues in winter include the possibility that the pond freezes over completely, making sure breakers don't get tripped, and making sure all equipment is still operating, specially after a power outage. Since most outdoor plug-ins are GFCI, keep an eye on them to make sure they're not tripped. Of course, you will want to keep an eye on the fish also, in case they don't do well in spite of your best efforts.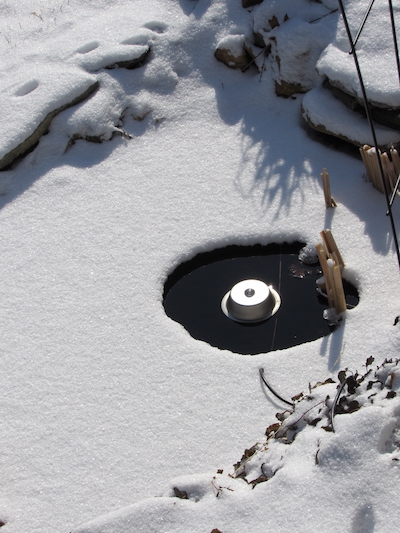 If you plan to take several weeks or months every winter to escape to warmer climates, you may want to shut the pond down for winter, unless you have someone close who can check it on a regular basis, and whenever the weather gets bad. If you want total peace of mind while on vacation, contact us to get on our schedule for winter checkups. We can have our maintenance personnel stop by weekly or bi-weekly to take care of your water feature for you.
Heat It Up
If you do decide to keep the pond operating over the winter, we do recommend adding an Aquascape De-Icer, which is a floating heater that keeps a small area open for air exchange. If your pond includes a waterfall or stream feature, the running water will generally help keep an open area for gases to escape, but any water that tends to be still will benefit from a de-icer. You will need to keep an eye out for ice dams on waterfalls and streams, though, as they can build up and divert water away from the water feature and out into the lawn, which can cause the pump to run dry and burn out.
Closing It Down
If you decide to shut down your pond completely for the winter months, make sure you have an aerator installed about 1' below the surface of the water. An aerator is a small compressor system that pumps air through a hose to a ceramic airstone. The bubble column not only aerates the water to keep the pond and fish healthy, but tends to keep the water surface from freezing completely in that area. To make doubly sure to keep a hole in the ice, you may want to supplement this with a De-Icer. Typically your pond will only have a couple inches of ice on it and should never freeze completely in this part of the country.
What's Going on Down There?
Under the ice your fish are hanging out at the bottom of the pond, barely moving. They are in state of partial hibernation, and as long as the warmer, lower layer of water isn't disturbed they generally handle extreme winters pretty well. Fish that are in hibernation don't need to eat until the water warms up in the spring, so don't feel like they are hungry! If you feed them when they are not eating, the food can spoil and cause problems. The frogs are generally buried in the crevices of the rocks or in any plant matter that might be in the pond. Keep an eye on the fish, if you see any that appear to be floating sideways or upside down, they might need to be moved inside till they recover.
Spring is Coming!
Now is also the time to think about getting the spring pond cleanout scheduled, as well as any changes or upgrades to your pond. Contact us at Premier Aquascapes and we can assist you with scheduling your pond opening and cleanout, as well as going over any improvements and changes you were thinking of making to your pond.